Extinction Rebellion climate change activists have been door-knocking across London to attract new members.
The group says it is carrying out three days of "deep-canvassing", approaching people in their homes to "listen to their concerns" about climate change.
Residents are being invited to local talks, to learn about the campaign and how to get involved.
Extinction Rebellion (XR) says the "outreach" exercises are part of a "week of action" in the capital.
XR says despite polls suggesting a high level of concern about climate change, "rarely do people have the opportunity to share their thoughts and fears about the world".
…
Climate protestors have stormed a Shell (LON: SHEL) office to tell its workers to leave the oil giant, according to reports.
Climate protestors have stormed a Shell (LON: SHEL) office to tell its workers to leave the oil giant, according to reports.
Extinction Rebellion UK has Tweeted to say that campaigners are currently inside the supermajor's London headquarters.
Videos have also appeared online of demonstrators gluing themselves to the reception desk at the Shell base and demanding "to talk to HR".
Widespread protests have taken place in London today as XR and Just Stop Oil activists call for an "immediate end" to oil and gas.
…
…
I wanted to sound the alarm about oil exploration and the climate crisis, but Good Morning Britain just didn't want to hear
…
Civil resistance is really not about protests or marches, it is about responding to a situation beyond our worst nightmares. At Cop26, the people who run things effectively confirmed that they were going to let billions of the poorest people on this planet die in order to keep business as usual going.
Well, to that we say no. We will not continue as generations have before and allow our actions today to have devastating consequences on those tomorrow. It is time to break that cycle and stand up for what is right. "If governments are serious about the climate crisis, there can be no new investments in oil, gas and coal, from now – from this year." That is a direct quote from Fatih Birol, executive director of the International Energy Agency. He said that last year. Time has quite literally run out. It only takes one quick search on the internet to see what is happening. Somalia. Madagascar. Yemen. Australia. Canada. The climate crisis is destroying lives already and will continue to unless we make a commitment to stop oil now.
The Business Secretary has insisted the Government will not switch off domestic oil and gas production as climate change activists targeted his department in an act of "civil disobedience".
…
But in a message to the activists posted on social media, the Business Secretary said: "You cannot – and we won't – switch off domestic oil and gas production.
"Doing so would put energy security, jobs and industries at risk – and would simply increase foreign imports, not reduce demand."
The group said the demonstration was part of a week of "civil disobedience" by XR in London.
"The action is planned to continue until the UK Government agrees to implement Extinction Rebellion's immediate demand: to end all new fossil fuel infrastructure immediately," it said.
…
Comment by dizzy: I understand that XR and Just stop oil are demanding an end to any expansion to oil and gas and not stopping domestic production as Kwarteng is claiming.
Extinction Rebellion protesters have forced the closure of the insurance market Lloyd's of London, after using superglue, chains and bicycle locks to block entrances to the building.
The environmental activist group said more than 60 people had been at the site in the City of London since 7am on Tuesday to prevent workers from entering and with the intention of closing the business for the day.
Extinction Rebellion (XR), which encourages supporters to cause disruption through non-violent civil disobedience, said it was demanding that Lloyd's stops insuring fossil fuel projects.
…
…
Tory MPs have criticised Ben Goldsmith and called for his resignation as chair of the Conservative Environment Network (CEN) and a director at Defra after he voiced support for Extinction Rebellion.
The financier and environmentalist, who sits on Defra's board, has apologised after criticising Labour's strong stance against the Just Stop Oil protests, during which activists have blockaded fuel distribution terminals. He has said he has no plans to resign.
…
Anti-fossil fuel activists have vowed to continue blockading oil terminals until they are jailed, as they approached 1,000 arrests for their actions so far.
"Ministers have a choice: they can arrest and imprison Just Stop Oil supporters or agree to no new oil and gas," Just Stop Oil said on Tuesday morning. "While Just Stop Oil supporters have their liberty the disruption will continue."
Fuel-blockade activists were taking their first day off in 12 days on Tuesday, after beginning their campaign on 1 April. "We decided to give them a break," a campaign spokesperson said. About 400 people have been arrested a total of 900 times for taking action so far, according to the campaign.
…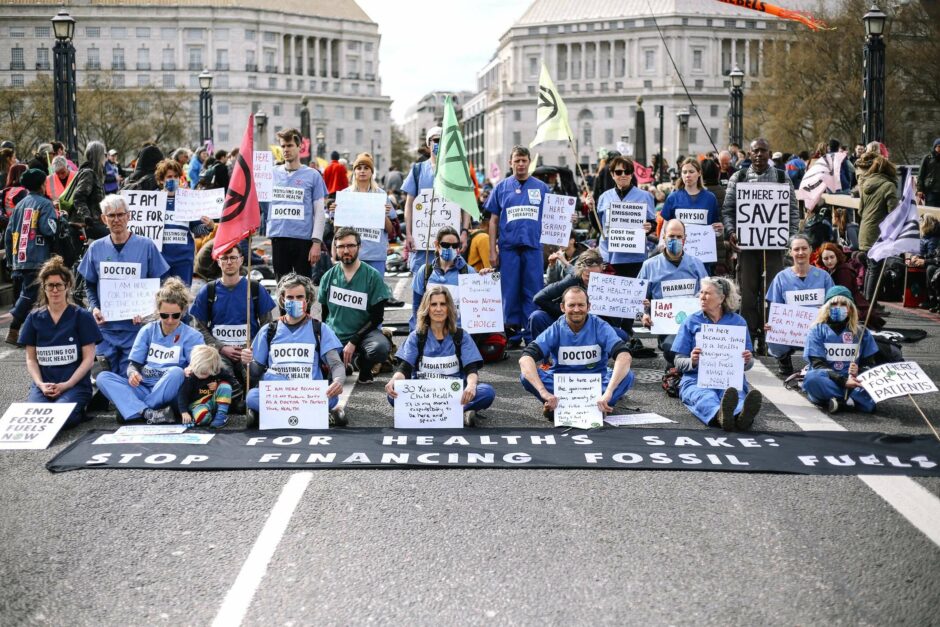 Extinction Rebellion is continuing its protests this week with bridge blockades, mass outreach and targeted actions, such as today's shut down of financial institution Lloyd's of London. The movement is also supporting disruption at oil facilities with the Just Stop Oil coalition. 
As petrol pumps around the country begin to run dry, the government has a choice: continue destroying life on Earth by doubling down on oil and gas and supporting corporate interest over people's lives, or honour the UK's Paris commitments and change course.
In short, put an end to all new fossil fuel investments immediately.
Extinction Rebellion is told time and again to stop disrupting ordinary people and target the bad guys instead. But it turns out when we disrupt carbon people feel it, as almost everything we do economically relates to – or relies on – oil and gas. We recognise these protests are hitting people now, but as the UN Secretary General, Antonio Guterres said, we are "on track for an unlivable future" by continuing to invest in fossil fuels. The disruption coming will be far greater and beyond our control unless this stops now.
We are out of time – weather patterns are already destabilised and climate related deaths occurred on almost every continent in 2021. Our current political system is incapable of acting with the speed and integrity needed in this moment of crisis. Life as we know it is going to change, whether or not we choose to act on the climate crisis, and whether or not we like it. The UK government's refusal to admit this is shameful dishonesty. In the words of its own Environment Agency, we must "adapt or die".
…