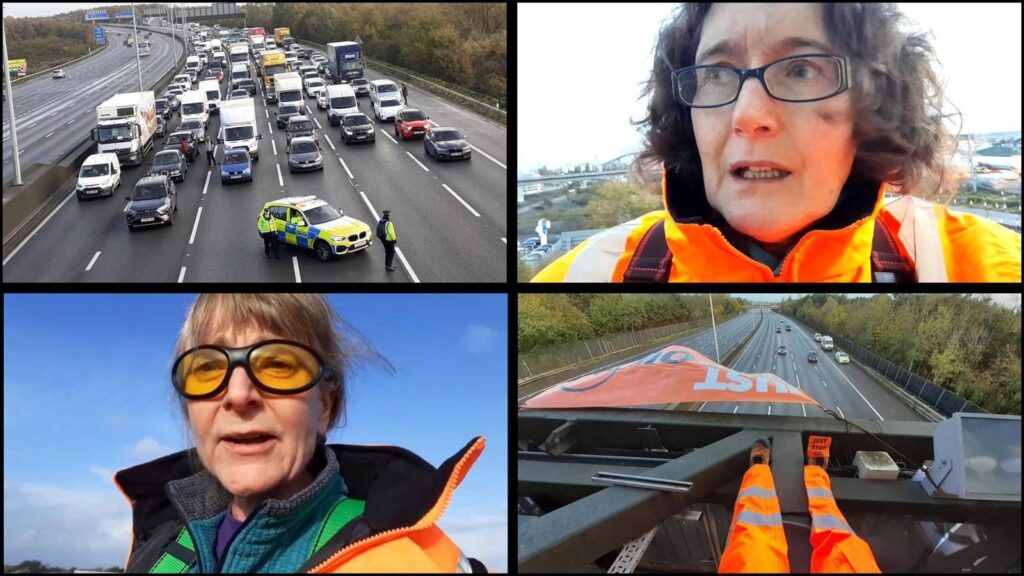 12 Just Stop Oil activists are appearing in court today to face charges associated with causing disruption on the M25 in November to put pressure on the government to halt all new oil and gas licences and consents.
This week sees the continuation of court hearings for the Just Stop Oil supporters arrested as part of the four days of action on the M25 during November. A total of 12 supporters including 5 currently on remand are appearing at Southwark Crown Court today from 11:30am in 4 separate hearings in connection with actions taken on 8th November.
Among those appearing in court today is Jane Touil, 56, a former public sector worker from Rochdale. She is partially sighted and was wrongfully imprisoned for 4 days in November after having been released on bail by a magistrate. Jane said:
"I feel morally compelled to act. I cannot stand by and do nothing while the government knowingly pursues genocidal policies. There can be no new oil and gas if we want a liveable future. Licensing new oil and gas amounts to mass murder. I urge everyone who wants a liveable climate to support Just Stop Oil."
George Cattell, 22, from Leeds said:
"Ordinary people are in absolute misery this winter, sitting in darkness and freezing as the government continues to prioritise the profits of fossil fuel companies that are torching the climate. Even during my relatively short life I have seen the climate crisis get much worse and still emissions are increasing. Licensing over 100 new oil and gas projects in the North Sea is criminal. I couldn't sit by and watch anymore so I stepped up into civil resistance. I stand by my actions. I have no regrets and I'm prepared to go to prison if that's what it takes to force our government to change."
Amber Robards, 21, an environmental student from Bristol said:
"I'm terrified for the future. I couldn't hide from the truth or carry on life as normal any longer. It is unbearable to just stand by and watch as the government commits genocide against vulnerable people across the world. My generation has been put in an impossible position.
"I stepped up to take action with Just Stop Oil to put pressure on the government to stop new oil and gas projects and I am prepared to face the consequences. They would rather lock us all up than prevent societal collapse by ending new oil and gas. But you can't imprison a flood, you can't put a heatwave in the dock, you can't fine a wildfire."
Six weeks of continuous disruption and civil resistance by supporters of Just Stop Oil during October and November resulted in over 700 arrests. Since the campaign began on April 1st, Just Stop Oil supporters have been arrested over 2,000 times, with 25 supporters currently in prison.
Just Stop Oil continues to peacefully resist the government's plans to licence over 100 new oil and gas projects by 2025, and its failure to fulfil its promise to help people with their skyrocketing energy bills.