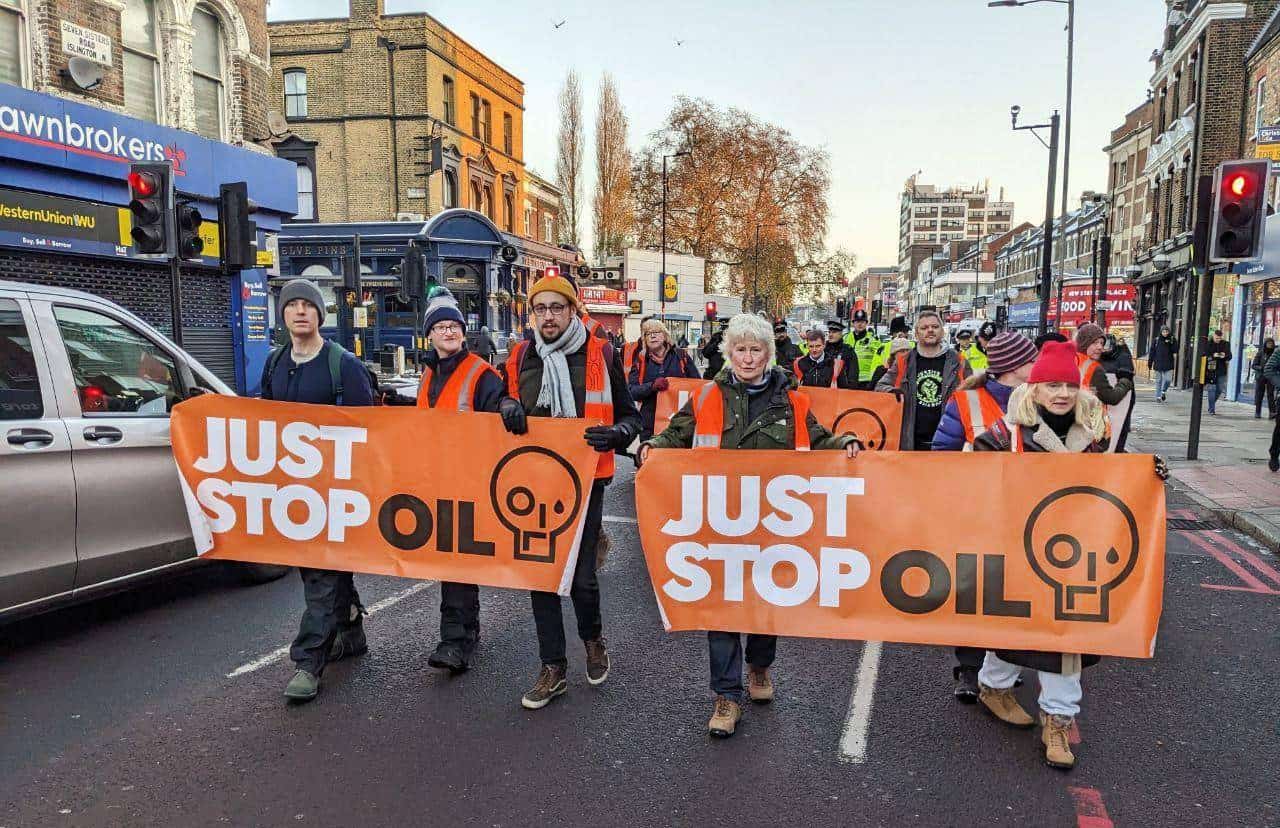 Just Stop Oil have disrupted traffic on key routes in London today to demand that the government halts all new fossil fuel licences and consents and reverses last week's disastrous decision to permit a new coal mine in Cumbria. 
Just Stop Oil activists wearing hi-vis vests disrupted traffic at Green Lanes, Finsbury Park and proceeded to march slowly northwards accompanied by around 7 police officers at 8am this morning.
Sheila Shatford, 67, grandmother of two and former nurse from Bristol, who has already spent 13 days in prison for taking action with Just Stop Oil, said:
"As a baby boomer I have a responsibility and a need to stand beside all the brave young people who are prepared to put their careers and freedom on the line in order to stop the wanton destruction of their future and the misery and suffering happening right now as a result of climate breakdown.
"Shame on you Mr Sunak, for allowing your government to support oil and gas expansion, shame on you for allowing a new coal mine that nobody wants or needs. Shame on you for demonising peaceful people. You can ban us, revile us, lock us up but you won't stop us. We will not be complicit in the destruction of everything we hold dear."
Peter Smith, 30, from Harringey, London said:
"The stark reality is terrifying. If we continue down the road we are currently on we don't have a future. We face starvation and misery and the loss of all we hold dear. Normal people need to take a stand and support Just Stop Oil in stopping new fossil fuel licences and moving towards a sustainable future."
Ludi Simpson, 69, a retired planner from Shipley, Yorkshire said:
"The UN general secretary says that spending on new fossil fuel exploration is delusional. Our government is doing just that and I fear for my children's future. My action is from the heart and the head. I know politicians can do the right thing if they listen to the facts. Their inaction is burning up our lives. I want us all to have lives we can be proud of. Is it too much to ask for a safe future? Governments must end the greed of oil companies which is immoral and killing us."