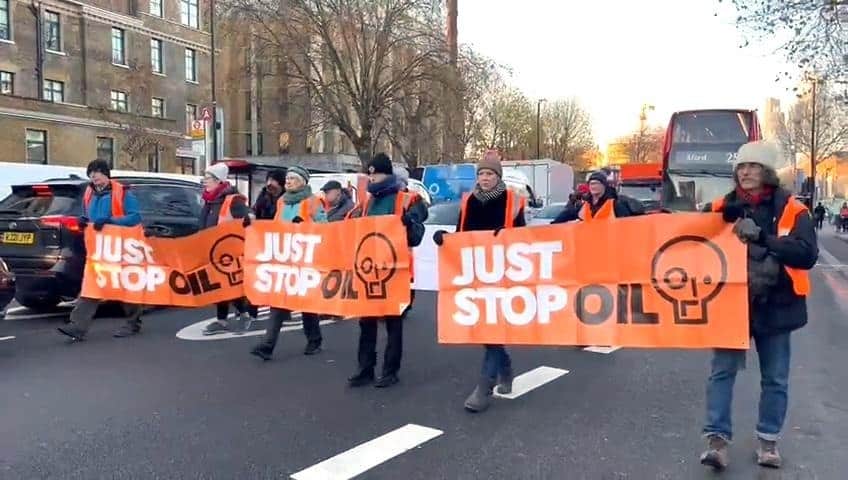 Just Stop Oil supporters have disrupted traffic on key routes in Central London today to demand that the government halts all new oil and gas licences and consents and reverses yesterday's decision on a new coal mine.
15 Just Stop Oil supporters wearing hi-vis vests walked onto Whitechapel Road, East London at 8.15am and proceeded to march slowly east and then west causing delays to traffic.  The march continued onto Commercial Road.
Sophie Holland, 51, a mum of three and NHS speech therapist from Bristol said:
"My concern for the future of everything has reached the point it seems reasonable, responsible even, to be in the streets demanding change. Why is our government not listening to Sir David King, Sir David Attenborough, the many 1000's of scientists and the UN Secretary General who can't make it any clearer: either we change, or we perish. Still the government plans for more oil, gas and now coal. They are killing us, our natural world, our children's futures.
"I work with people with severe asthma and long Covid, who struggle to breathe. Air pollution will get worse, as will fires, floods, hunger. It is beyond contention. A liveable future is possible, but only if we stop new oil and gas. I'm terrified. I want my children to die of old age. What I can't understand is why isn't everyone on the streets, shouting for change?
Teresa Garlake, 59, a former teacher and mother of 2 young adults from Oxford said:
"As a teacher I worked to help children believe in themselves and their power to be good citizens. What future do they have now? Our government knows full well that allowing the extraction of new oil and gas resources in the UK will destroy everything we hold dear. Yet it continues to subsidise the fossil fuel industries with billions of pounds every year.
"I don't want to be here causing disruption, but the fact is that the real disruption is being caused by a government that continues to support a fossil fuel industry that is bringing about an unliveable future. Morally, who are the criminals? We are here to do all we can to bring about a future for all children. We can't have that unless we stop all new oil and gas"
The action follows yesterday's announcement by the government that it has given the greenlight to the UK's first new coalmine in 30 years at Whitehaven in Cumbria.
A Just Stop Oil spokesperson said "The government has just ripped up any pretense of global climate leadership and signed the death warrant for millions of people and for what? Coal that no British company wants or needs, whose credentials rest on dangerous lies about jobs and carbon capture and storage. 
"Their toxic plans will lead to social collapse and the destruction of everything we hold dear. This cannot stand. We need everyone out on the streets now to take back what is rightfully ours: the chance of a livable future."